Online CPR Certification Blog
Date:

April 30th, 2021
What's the State of Mental Health during COVID-19
How's your overall mental health during COVID-19? Several Studies show an increase in stress and anxiety levels since the pandemic caught fire.
Worry continues as the virus claims more lives and the economy dips in what scientists describe as a second wave.
Remember, a majority of nations worldwide weren't ready for such a pandemic. This lack of preparedness caused a strain in health care, the economy, and for the average citizen, much uncertainty about the future.
As a result, most people  shifted focus to COVID-19 and may not notice crucial mental health effects. If such cases worsen, victim's suffer psychiatric problems like Post-Traumatic Stress Disorder (PTSD) among health care personnel. Many other issues could arise within the context of the general community.
Researchers have sought to reveal the impact COVID-19 on physical and mental health. Studies show a significant increase in mental illness risks during Corona compared to pre-pandemic.
For instance, most people stay glued to their TVs for COVID updates; some waiting for the news that a vaccine has been discovered or any hope to hang on to.  Most times, panic increases when expectations are unmet.
Besides news updates, the pressures to adjust to COVID restrictions like social distancing and quarantine may cause people to become lonely and anxious.
To address this issue, most health boards and organizations have developed various platforms to help take care of your mental health. Mentally disturbed people show different behavior. Examples of signs that someone has a mental condition include;
Eating and sleeping routine
Concentration and sleeping difficulty
High use of drugs, alcohol, and substance abuse
Chronic conditions aggravate
Mental illnesses worsen
Health insecurities and fear of losing the people you love
Examples of individuals who are more likely to have issues with their mental health during Covid-19 include;
Individuals with a higher coronavirus susceptibility, for example, the elderly and those with various underlying medical issues.
Children and teenagers
Individuals looking after their affected relatives or friends
Individuals who already have mental health issues
Important employees from the food industries
The homeless people
Individuals who can't understand the common national language but their primary language cannot access corona updates in their language.
Some individuals from minority ethnic/racial groups
Socially isolated individuals
Individuals with developmental delays and disabilities
Individuals who their jobs were affected by the pandemic
With that in mind, below are ways to boost mental wellness amid COVID.
Eleven Ways to Improve Mental Health during Covid-19
Times are tough for everyone, especially those who've felt the most heat; like if you had to close businesses, or lost your job due to such restrictions.
No one knows what to expect. In the meantime, people are following measures set by various governments and boards. Below are eleven safe ways to enhance your mental health and safety amid this pandemic.
1.  Limiting Negative COVID-related News & Online Content
Coronavirus is "bad news" worldwide. Everyone wants to know every new detail by the day. And in  extreme cases people have suffered heart and panic attacks for over-dosing Corona-related content.
Nick from England, Kent, a daddy of two kids, suffered a tragic panic attack. He said that the attacks were related to "the fear of how the catastrophic outcomes will affect his family, friends, relatives."
Luckily, he managed to control this situation by reducing the number of times he watches and reads news relating to the virus. Nick also seeks refuge in mental health support helplines. As a preventive stress measure, it's advisable to limit how much COVID news you read and watch.
You can set aside specific times to update yourself with the most relevant news. It's also crucial to seek info from trusted sources to steer clear of non-standard and scam news.
Examples of trusted sources are news from NHS and government platforms.
2. Keep In Touch With Other People
This pandemic season is challenging and lonesome for most individuals. One of the best ways to break self-isolation is through frequent interaction with other people, particularly those who strongly care about your health and wellbeing, such as friends and relatives.
It's best to reach out and connect with others. Do frequent check-ins at a friend's, parent's, or anyone you love. You can do engaging, relaxing, and constructive activities together, such as watch movies or read storybooks/novels.
You can also talk with them concerning your feelings and concerns about various issues and events.
3. Take Social Media Navigation Breaks and Mute Any Triggering Notifications
Following more information from social media platforms can develop a lot of insecurities, fear, and beliefs. When this pandemic emerged, it was associated with various root cause beliefs and theories. Believing all this info was be confusing and traumatizing for most.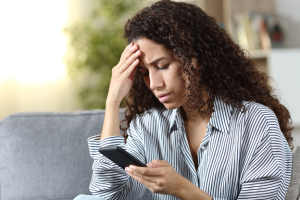 Image Alt Tag: mental health during Covid-19
Moving forward, it's best to be careful about the news you read, browse, and watch. It's also advisable to avoid over-clicking on Covid-19 notifications to reduce panicking. You can minimize  social media navigation time by reading novels or watching TV programs.
In case you find social media notifications triggering, it's best you mute them until you feel comfortable or ready to go through.
4. Wash Your Hands and Sanitize, But Don't Overdo It
Most OCD and anxiety victims have difficulty concentrating by putting most of their focus on Covid-19. Most of them act in overly-cautious ways, such as over-washing hands, sanitizing, and avoiding touching surfaces.
According to author Lily Bailey, most OCD victims view contamination as a primary threat. Washing hands is a great way to decontaminate your hands, but overdoing it can be useless and time-consuming.
Don't do it just because it feels right or to please people. Wash your hands because it's a necessary precaution to reduce COVID infection risks. For example, after work, before eating, or during entry and exit from business stores.
Staying at home can be boring and annoying, and OCD victims feel the most effect. Individuals with OCD are advised to look for distractions during isolation periods to reduce their obsessions.
5. Avoid Burnout
Burnout is described as the state when your body is physically, emotionally, and mentally exhausted due to extended stress. Some of the signs exhibited during burnouts include; constant headaches, intestinal problems, stomachaches, emotional exhaustion, low performance, and procrastination.
"APPLE"( acknowledge, pause, pull-back, let go, and explore) is an acronym for a technique that helps minimize job burnouts and anxieties.  his technique emphasizes that you need to acknowledge any possible uncertainties and then contemplate before reacting.
Third, you must weigh the situation to see if it's worth worrying about and imagine letting go of any unpleasant feeling through exciting imaginations like floating bubbles or your happy place. Lastly, explore your current situation and try to see and feel the air and environment around you.
6. Develop a Consistent Plan for Your Daily Activities
The emergence of coronavirus tampered with everybody's routine. To adjust well, developing a reliable schedule while considering the factors you can and cannot control can help you keep a consistent and stress-free routine.
While developing this schedule, take into account any cancellations and new routines you should incorporate . Strongly consider reasonable precautions and ways to avoid unnecessary risks.
You can guard your mental health during Covid-19 by paying attention to trustworthy information sources and following prevention guidelines from reputable sources like CDC or WHO.
7. Be Cautious about Your Mental Wellbeing
Our overall health strongly relies on our mental health. Mental wellness has to do with thoughts, feelings, actions, and response to stress and decision making during emergencies. To maintain all these aspects in order, your mental health must be in check.
Victims with conditions such as anxiety, depression, and bipolar disorders usually have difficulty relating with other people because of how their conditions affect their feelings, moods, actions, behaviors, and thoughts.
Image Alt tag:  Yoga helps with mental health during Covid-19
Such effects can be short-term or long-term. It's advisable that those with preexisting mental issues carry on with  their medication. Patients should also always be wary of any worsening or new signs and seek immediate medical attention when they arise.
Everyone should consider contacting their healthcare providers when they're stressed for several consecutive days. You can use private or free resources to link with proficient and competent counselors available in your location.
In case of mental health issues, you can rely on national helplines. Examples of these helplines include;
911
Disaster distress: 1-800-985-5990; for Spanish, you press 2. English speakers can text TalkWithUs, while for Spanish is Hablanos to 66746 or 1-888-628-9454 (for Puerto Rico Spanish speakers).
Sexual Assault: chat or text 1-800-656-HOPE (4673)
Domestic violence: call 1-800-799-7233 or text the word LOVEIS to 22522
Child abuse: call or text 1-800-42-4453
SAMHSA: 1-800-662-HELP (4357)
Interactive Map for Federally Eligible Health Organizations.
Some individuals opt for suicide when faced with mental problems. The more likely groups to commit suicide are victims of child abuse, violence, rape, among others.
Some of the factors known to aggravate suicidal thoughts are anxiety, depression, loneliness, financial stress, and other factors that can affect an individual emotionally. These factors are more likely to increase during pandemics, such as Covid-19.
Some of the ways to prevent suicidal feelings and behaviors are through support from both relatives and the community, keeping in touch with people, therapy, and counseling.
8. Help others
Helping others with their struggles can make you feel more vested in your daily life. Because of the nature of the pandemic, you might not want to risk your safety.
Therefore you can utilize virtual solutions to reach out to in-need individuals in your community or workplace and help them cope with their struggles. For instance, assisting the elderly trim their lawns or pick up their medications and groceries.
9. Practice Mindfulness
In simple terms, practicing mindfulness is "being in the present," according to Laura Dreer, a scientific psychologist at Alabama University.
At some point in your lifespan, you might find yourself preoccupied with past or future occurrences until you forget what's presently going in your life. It's advisable to be cautious about happenings and the beeping notifications that take most of your attention through practicing mindfulness in the mornings and evenings.
There are several programs online you can enroll in to improve mindfulness, one example, is the Headspace platform.
10.Enhance Knowledge and Jog Your Mental Action
According to Deer, this pandemic period can be an opportune time to pursue those pieces of training and courses you wanted so much, but you didn't have time to do them. Today, there are an array of online education providers where you can enroll for a course any time of the year.
For example, newbie PMP credential holders can enroll for CAPM certifications to improve their credibility and other critical competent skills. If you had a project and need assistance to complete it, you use YouTube DIY videos for an effective and outstanding outcome.
Most governments offer free courses for youths online. Now can be the best time to navigate their platforms and register for a course that befits you. Or you can watch various empowering shows like Ted Talks, which can help you enhance your perspective for several concepts.
11. Be Grateful Every Morning You Wake Up
Waking up every day isn't a guarantee to anyone, and it's best you sit down for a moment and remember that; you might be with your neighbor today, and tomorrow you hear that he/she succumbed due to corona (God forbid!).
Motivating yourself every morning that you're lucky and blessed to see the sun that day can be a significant way to boost your motivation and perspective in life. From Dreer's perspective, it's best to list down things you're thankful about and a thankfulness journal.
How You Can Help Children Improve Their Mental Health during Covid-19
This pandemic isn't affecting only adults, but children too. How parents and other people respond to coronavirus pandemic can, in some way, affect your kid. Its best for caregivers and parents to offer adequate support and counseling to their kids this time.
Some of the behavior changes that show your kid is stressing include;
Excessive crying
Get irritated faster
When they go back to their outgrown behavior, such as bedwetting
A shift in sleeping and eating patterns
Lashing out
Excessive sadness and fear
Evading or performing poorly in school
Lack of concentration
Avoiding activities they usually love
Body aches and headaches
Substance abuse.
Here are several ways you can your child's mental state;
Spend more meaningful time with them by doing fun and constructive stuff together, reading storybooks, watching movies, playing games, or exercising.
Tell them about the pandemic.
Be a good example to them by doing activities that improve mental health, such as taking breaks, drinking enough water, eating well, and connecting with relatives and friends.
Answer any queries they have corona and tell them the pandemic facts in a more comprehendible way.
Try to continue with the family's routine.
Frequently reassure them of safety. You can tell them about your stress control strategies so that they can emulate and learn how to deal with theirs too.
Reduce your kid's exposure to corona-related news and social media. They might misunderstand some information and get worried about something that doesn't exist.
How You Can Control Work-Related Stress during Corona
Many nations worldwide weren't ready for such a pandemic. This lack of preparedness caused a strain in health care, the economy, and for the average citizen, much uncertainty about the future.
Covid-19's emergence disrupted employees working both remotely and commuting work. The effects of this virus can make one anxious and emotional.
How you handle emotions and anxiety not only affects you but also the people around you, including workmates and the community at large. That being said, it is best to understand stress symptoms and control them to boost your mental health during Covid-19.
Some of the job-related causes that can contribute to stress include;
Worries that you can contract the virus while at work.
Working and looking after your family simultaneously
Handling a complex workload
Lack of the necessary materials/resources to perform your work
Guilt feelings for not contributing much to work or the community.
Fearing that you might lose your job due to the pandemic
Adapting and learning to use new working and communication tools and handling various technical issues.
Getting used to a different work schedule or location
Below are various ways you control job-related stress and enhance your mental health during Covid-19;
Talk to your workmates, managers, and executives concerning work stress, but ensure you adhere to social distancing. During such talks, identify factors that trigger these stresses and come up with reasonable solutions.
You discuss how the corona is affecting work and communicate expectations clearly for everyone to comprehend. In addition, you can assess various resources in the workplace that can help assess mental health.
Analyze things you can't control and utilize available resources efficiently.
Develop a reliable daily schedule to enhance your control sense. This routine can be similar to your previous one. It's best to have a consistent sleeping plan and take regular breaks at work whenever you feel tired or burnout.
During these breaks, you can stretch, check on your colleagues, workmates, and friends, stroll, jog, or perform in-desk exercises. You can as well just relax within your organization's premises at a chilling spot you love.
For individuals working remotely, don't overwork yourself; set time to end your office work and have sufficient time with your family and friends. After work, you can do fun and relaxing activities with the people you love.
Understand coronavirus facts and protective measures, not only for your sake but for others too. Knowing the risk associated with the virus and sharing correct information about it with your coworkers and family members helps improve connection and reduce stress.
Remember that everyone s affected by the pandemic in one way or another.
Periodically, avoid reading, browsing, or watching news related to corona. Hearing information about the virus more often can end up being upsetting and mentally tiring.
Remember that it's the responsibility of everyone to fight the pandemic, including you. Ask yourself what you are doing to contribute. Do you follow the set precautionary measures?
Keep in touch with others. Share your thoughts and ideas concerning the pandemic with your trusted friends and family members. Tell them the impact the epidemic has on your life, and also listen to their views.
Sharing and hearing other people's experiences can help you know how to deal with your issues and see that everyone struggles just like you, thus giving you hope.
Connecting with your loved ones shouldn't be necessarily physical; phone calls, emails, chats, letters, and social media can do too.
Frequently checking on others boosts your self-esteem, control, and belonging. It's advisable to find ways to socially support others, particularly if they indicate any stress signs, like anxiety and downheartedness.
If you like your overusing drugs and alcohol or using them for stress relief, you should look for help, for example, by going to counseling or therapy sessions.
If you already have a preexisting mental issue, you should ensure that you continue with your medication as prescribed by your caregiver.
Conclusion
A majority of nations worldwide weren't ready for such a pandemic. This lack of preparedness caused a strain in health care, the economy, and for the average citizen, much uncertainty about the future.
Ignoring mental health during Covid-19 can have diverse effects on your life. Everyone should understand how to pinpoint various signs of poor mental health and address them in time. Practice mindfulness and maintaining a positive perspective can improve your day-to-day life.
Parents and nannies should be keen on their children's mental wellbeing at all times. You can utilize the above tips and more to kep your mental health in check.