Nationally Recognized and Trusted: all courses are created by licensed U.S. board certified physicians.
All certificates are signed by authorized U.S. board certified physicians.
American Academy of CPR & First Aid, Inc.®
Healthcare Provider
BLS CPR

(Adult/Child/Infant)

First Aid Course
Bloodborne Pathogens
Adult CPR
Combine Courses
Bloodborne Pathogens Training and Online Certification Course
Multiple course discounts
- Purchase a second certification for
$12,
and each subsequent one is just
$6.
Get more information >>
Bloodborne Pathogens Training & Online Certification Printable Certification or Get by Mail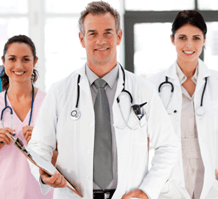 The American Academy of CPR and First Aid, Inc. offers certification coursework for bloodborne pathogens (BBP) training. The free online training course will teach you how to properly handle blood as well as the proper steps you can take to minimize your risk of exposure. Once you have passed the multiple-choice exam at the end of the course, you can purchase your certification.
What is a bloodborne pathogens certification?
The certification proves you have learned how to safely handle human blood and other bodily fluids without exposing yourself or others to infectious diseases.
While there are many bloodborne diseases to be mindful of, the 3 most concerning include HIV, Hepatitis B, and Hepatitis C. These diseases can be transmitted through:
Accidental or intentional cuts or punctures with contaminated needles or other sharps
Contact between mucous membranes that protect the body from pathogens such as bacteria and viruses
Contact from infected bodily fluids with broken skin
Sharing needles
Sexual contact/intercourse
People who are exposed to blood containing these pathogens run the risk of infection and contracting these life-threatening diseases themselves. While many people think that medical professionals are exposed to pathogens that cause bloodborne diseases on a regular basis, the rigorous safety protocols they follow make it so exposure is actually quite rare.
Our free online certification course will teach you the safety procedures that healthcare workers follow so that you can use them yourself. When you complete your training, you will be prepared to keep yourself safe while responding to an emergency that requires you to handle blood.
For years, the American Academy has been offering free coursework to healthcare professionals, caregivers, and others who must learn these proper handling techniques in order to meet their employers' and institutions' safety guidelines.
How long is the certification valid?
Our online bloodborne pathogens certification is good for 1 full calendar year from the time you purchased your certificate. Our certification is accepted by most industry standards where BBP training is required for employment purposes. Be sure to check with your employer before purchasing to confirm online training is accepted as some employers may require in-class training.
Who should get bloodborne pathogens training?
It is common practice to require healthcare professionals to undergo BBP training. This helps to ensure a healthy work environment, patient privacy, and general safety.
Employees who work in medical settings such as blood banks, nursing homes and hospitals are routinely required to earn a BBP certification before they are allowed to handle blood. However, anyone may face an unexpected emergency involving someone who is bleeding, so it is wise for everyone to receive education on how to minimize the risk of contracting or spreading a bloodborne disease.
Bloodborne Pathogens Training with COVID-19 Positive or Suspected
Our online instructional course includes recommendations to reduce the risk of contracting and spreading COVID-19 when handling human blood and other potentially infectious bodily fluids and materials. Recommendations follow the suggestions explained by the Center for Disease Control and World Health Organization.
What will you learn from our bloodborne pathogens certification training course
The course teaches proper safety precautions and procedures for handling blood. It provides knowledge about:
What they are, how they affect the body, and the risks they pose
How to limit your risk of exposure to bloodborne viruses and hazardous organisms
General precautions for handling human blood, and blood products
Safety procedures and processes for dealing with exposure to blood
Procedures for how to handle equipment used for drawing and storing blood
Enjoy the benefits of completing your training and certification through the American Academy
Deciding to train with the American Academy comes with several perks. The benefits we provide have made us a popular choice for healthcare professionals who are seeking recertification, as well as people obtaining a certification for the first time. These benefits include a quick and comprehensive online learning that allows you to complete your training in approximately 45-60 minutes.
Sign up now!
The American Academy's course provides one of the most commonly required training for those who routinely care for others. It is particularly important for those who work in the healthcare industry, or are frequently exposed to individuals who may be carriers of bloodborne diseases.
Signing up for and completing our online training course is so quick and easy that we are sure you'll continue to choose the American Academy for all your training needs. Fortunately, we offer a complete lineup of online healthcare courses, including an online CPR certification course, as well as a first aid course. The American Academy of CPR and First Aid, Inc. looks forward to helping you continue your education in eliminating the dangers of exposure.
Mission and Vision
Vision: To provide in-depth and affordable training to learn preventative measures to eliminate exposure..
Mission: To promote public health and safety by preventing the infection and spread of bloodborne diseases by reducing and eliminating exposure to bloodborne pathogens.
Interested in other online courses?
Take multiple courses and purchase additional certifications to receive a discount. Visit our combined courses page to learn more.
Member Sign In
Watch CPR/AED
Videos
Click Below Course To View Videos
Healthcare Provider Videos >>
BLS Videos >>
Adult CPR Videos >>
High Quality Videos
Trusted And
Validated
Our training allows you to learn from licensed physicians who developed instructional course content to ensure every aspect of training and certification is thoroughly covered.
Nationally
Accepted
The American Academy has provided free training for employees in a wide array of industries including healthcare workers, schools, tattoo artists, microblading, childcare workers, firefighters, and many others. Many of which have also used us to get a recertification for bloodborne pathogens.