Online CPR Certification Blog
Date:

August 30th, 2021
Tips Recover from a Hurricane 
A report by FEMA shows that 40 percent of micro-businesses close up after natural calamities. This is a wake-up call for companies to prepare with firewalls like the right type of insurance for natural disasters.
According to attorney Brandon J. Clapp of Swift Currie's Insurance Coverage, "micro-businesses hardly recover from a hurricane because most of them lack adequate capital to recoup losses due to natural calamities."
Plus, most of these young companies do not have the resources to re-establish themselves after a disaster. Damages and losses from natural disasters can be detrimental to small business owners who still rely on small loans.
He adds that a 2013 study by The American Sustainable Business Council discovered that small companies lost around $3000 per day, each day they closed operations after a natural disaster.
Steps to Prepare Your Small Business for a Hurricane
What are the steps to prepare for natural calamities like a hurricane?
Get Enough Insurance Coverage for Your Small Company
Reviewing your existing policies with legal professionals to confirm the extent of your risks covered in the insurance is the first step to survive and recover from a hurricane.
Clapp adds that SMBs should concentrate on finding which policies are made to cover their needs.
"This is important because small businesses face different risks and have varying tolerances for those risks. A complete review should cover perils, property, limits, deductibles, and exclusions.
Clapp explains that there's more to the coverage process than "getting good insurance." Insurance can be costly; that's why you want to make sure you are only paying for the coverage you need.
Insurance for Natural Disasters
Expect to sort through a lot if you're considering all the different coverage plans available for micro-businesses. The main category is the range of insurance plans under the title "Property Insurance Policies."
Also, small businesses should note that most plans exclude flood coverage— which means most times they'll need a dedicated insurance policy to cover that risk.
Coverage for Property and Building
Micro-businesses should have a plan for Property Damage or Physical Loss.  This is one of the most critical insurance coverage plans since it covers any physical damage or loss, including equipment, raw materials, inventory, and buildings. Secure this policy to get finances to rebuild
Repair or replace whatever has been damaged by natural calamities.
More Coverage to get you back on your feet
You also need a cover for Generators/back up power, cleaning services (after a tornado or hurricane), and lost profits.
As the name suggests, Extra Expense Coverage protects your company from the additional expenses that go beyond the average operating cost after a disaster.
Lastly, Business Interruption Coverage is a plan designed to help cover profit and income losses caused by natural disasters. It is an excellent way to stay afloat and recover from a hurricane
Prepare a Disaster Plan and Test it
Proper planning is the basis of business continuity and the most effective strategy for minimizing hurricanes' impact.
Even though up-to-date tech enables advanced warning of imminent storms, there's little you can do to go on with your business operations without a contingency plan.
It goes beyond familiarizing you with all hurricane routes that can speedily get you out of town. It would help if you had an overall strategy that covers all sectors of your business. Find out how to;
Conduct the critical missions,
Select essential backup data,
Ensure offsite data storage,
Relocate end user
And Identify key personnel.
You can't accomplish all the above when under the pressure of an approaching hurricane minus prior preparation. Be sure to train a team to test your plan's effectiveness.
Backup Your Data
Your business is as good as dead without access to your company data. Make sure your I/S team conducts the backups in advance. Have the backups stored in a safe, protected, and dependable facility.
If you get caught in the last-minute scuttle, consider using the electronic vaulting technology that allows you to transfer data to an alternate info recovery site in a few minutes.
Note that Air and freight transportation services may be discontinued when a hurricane is around the corner. That's why you need to back up your data and have the shipped early enough.
Safeguard Your Site
Safeguarding your site equipment and facilities is vital in restoring your operations in case a hurricane strikes. You can do this by putting in place;
Backup Power sources (batteries and generators)
Alternative water sources
A backup supply of gasoline pumps to prevent flooding
Also, make sure to plan during construction. Your facility should be far away from faultlines and flood plains. This reduces flooding, making it easy to recover from a hurricane.
Have a dependable communications strategy
Communication is essential to all businesses. In the case of an approaching hurricane, it becomes the backbone of operations. Remember, you will need to coordinate all the emergency activities, including;
Executing the contingency plan
Warning staff of imminent danger
Maintaining contact with suppliers and clients
Keeping up to date with the media
Also, keep in mind your facility's day-to-day routine and consider the various types of communications, more so voice and data. Be mindful of what could happen to your business if communications are tampered with and establish action plans to reduce the impact.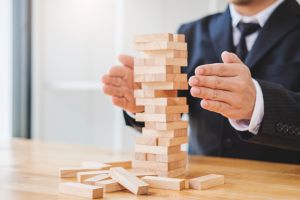 Image Alt tag: Business Interruption Coverage
Some handy backup means of communication include Radio, Television, walkie-talkies, high-frequency radio, cellular phones, point-to-point private lines, and satellite communications.
When planning for natural disasters, assessing your small firm's risk profile should be the starting point in determining the types of coverage you need.
Small Business Funding Resources to recover from a Hurricane
Sorry to all merchants who commit to establishing great companies, only to be destroyed by natural disasters like Hurricanes.
While one may argue that business owners should prepare earlier for such phenomena, most startups lack the capital to invest in disaster recovery and continuity strategies.
To provide such victims with a stepping stone to revival, here's a useful list of benefits available and links to get you on the provider's websites and make the most out of them as fast as possible.
Low Interest Loans
SBA and USDA both provide loans with low-interest rates to assist entrepreneurs in catering for repair and replacement costs of equipment and property destroyed by hurricanes.
Disaster assistance is funding offered to people, families, and local businesses in a region where a phenomenon declared by the President has destroyed the property. Loans are available for companies that suffer economic losses due to disasters.
You can always get assistance from your state government, the SBA, the Federal Emergency Management Agency (FEMA), and the Farm Services Agency (FSA).
Economic Injury Disaster Loans
These are loans meant to help business owners that suffer "significant economic injury." You could receive up to $2 million and enjoy access to the dependable working capital you need to move on after a disaster.
The loan term may go as long as 30 years with interest rates not exceeding 4 percent (for those who can't obtain credit somewhere else) or 8 percent (for those who can obtain credit elsewhere).
Physical Disaster Loans
These loans permit the SBA to lend cash to the tune of $2 million to cover repair and replacement costs of destroyed equipment, real estate, and inventory. It covers all the physical damages making it easy to recover from a hurricane.
Unlike other products, the term for these loans lasts up to 30 years with interest rates not exceeding 4 percent (for those who can't obtain credit somewhere else) or 8 percent (for those who can obtain credit elsewhere).
Tax Relief
If the federal government declares a disaster in your area, all affected merchants can apply for tax relief. This means you can make late tax filings or expedited repays.
Research more about it on the IRS's official website.
Free Legal Services
Through FEMA, your business can enjoy free legal services for areas federally declared by the President. You can get legal assistance on matters such as filing your insurance claims, rent issues, etc.
The Takeaway
Don't let your years of toil get washed away without trying to restore the business soon after a hurricane.
The above options are a great way to start rebuilding, but you can always research to see other useful alternatives.
You can also add some cushioning by taking out Business Interruption Coverage insurance to cover income and profits. A Property Damage or Physical Loss is also crucial since it cares for any physical damage or loss, including equipment, raw materials, inventory, and buildings.
Small business owners should secure this policy to get the finances to rebuild.