Online CPR Certification Blog
Date:

September 24th, 2021
6 Steps to Wire a Hot Tub
Are you looking for detailed DIY tips on how to wire a hot tub for a relaxing bath?
Well, it's time you focused more on a smooth wiring process than worry about the hazards that come with mixing electricity and water.
This anxiety could only lead to going over every DIY guide you meet trying to get the correct procedure, and the result may be more confusion.
Since it seems like everyone has advice to offer on wiring a tub, we developed a step by step guide to help you do it right.
These tips will save your time and give the specifics for a quick hot tub installation as recommended by the National Electric Code.
Which Materials Do You Need to Wire a Hot Tub
Before embarking on a hot tub wiring project, you must first gather the right tools for the job. Acquiring the tools and materials upfront will ensure everything runs smoothly from scratch for finish.
8 AWG solid copper wires
GFCI Circuit breaker
Flexible Plastic conduit
Screw driver
Hot Tub
Additional Outlet 120V
With these at hand, nothing can stop you from wiring your tub. Follow the steps below to do it right.
Steps to Wire a Hot Tub
Wiring needs attention to detail because a little error can mean serious problems in the future or a wrong dysfunctional connection.
That explains why most electricity projects are better left for experts. But if you choose to do it yourself, be sure to follow the right procedure.
Below are the steps to wire a hot tub correctly.
Step 1-check your home service panel/terminal box
Many people ignore this step because most home electricity systems  are rated above 100 amps and will support the power requirements of a hot tub. However, it's advisable to confirm if your home does.
The first step is to check the service panel. Here, we are looking for open slots with sufficient amperage power (at least 240V) to support the electrical requirements of your new tub. You will need two adjacent slots to install the circuit breaker which supplies power to the 240-volt circuits.
Step 2- Connect grounding
Now that you have confirmed your home service panel can support your tub, the next thing to worry about is avoiding electrocution. This is the most important safety tip to remember every time you wire a hot tub.
Look for a colored terminal or one marked G, Grounding, GR or Grounding located inside the service panel/ terminal box. Connect this terminal to the grounding port in the service panel with the NEC-recommended 8.4 mm (No. 8 AWG) solid copper wire linked to other conductors supplying the hot tub. You will need to do this to reduce the risk of electrocution.
Step 3- Connect Bonding lugs in the service panel to your local bonding grid
Avoid future risks of electrocution by connecting any metallic objects around your tub to the grounding bus you created in step 2.
Use a copper wire not smaller than # 6 AWG copper conductor ( insulated or not) to connect the "BONDING LUGS" terminals in your home service panel to a local bonding grid near your hot tub.
Next, connect all field-installed metallic objects like ladders, rails, drains and others within 3 meters of the hot tub to the grounding bus using copper wires not smaller than # 6 AWG.
Step 4- Extent power to the hot tub area
Well, we are now getting closer to hooking up your tub to the power source.
In this step, you will need to extend the electrical service to the location of the tub. Using your separate electrical outlet of 240V, connect the tub to the power source since most hot tub equipment consumes 240 volts, 60 Hz A.C current wiring.
Your electricity supply for the hot tub must include 240V circuit breaker or switch as recommended by the National Electric Code (NEC).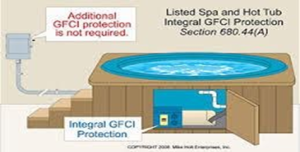 Step 5-Add an emergency shutdown box
Create a sub-panel and attach a GFCI circuit breaker to act as a disconnect switch. This sub-panel must be visible and easy to access. The National Electric Code recommends you add an emergency GFCI (ground-fault circuit interrupter) shutoff box not less than 5 feet or exceeding 50 feet from your hot tub.
This box should enable easy access to a shutoff switch for easy power cut-offs during emergencies. The GFCI circuit will cut-off power supply to the tub as soon as it detects a ground fault or short. Also, be sure to go through the manufacturer's manual for emergency shut off tips if a GFCI malfunctions.
Sometimes the tub will come with an integral GFCI protection, which means you won't need an additional GFCI circuit breaker, check with the manufacturer's manual to confirm if yours does.
6-Hook up the hot tub to source of power
Once everything is ready, you can wire a hot tub using the following procedure;.
Use a screwdriver to unscrew the tub's power control system and put aside the panel.
Loosen the 2 screws located at the bottom front of the tub's power control panel.
Using either a ¾" flexible, non- metallic conduit (for a #10 or #8 AWG wire tub) or 1" flexible conduit ( for a #6 AWG wire hot tub) to cover the wire from the power source through a hole in the right or left front corner, and into the tub's control panel.
After you have pulled all 4 conduit covered wires into the equipment control box, connect each to its appropriate terminals –usually on the lid of your tub's control panel.
Configure all jumpers in the correct position (on the lid of your hot tub's control panel). Tighten all the wires properly to avoid broken circuits due to loose connections.
To wrap it up, cover your control panel and tighten back all screws
The Safety Considerations for Indoor Hot Tub Use
An indoor hot tub is a thing of beauty and an excellent place to cool off after a day's load of activities.
Still, it can present many risks to your household; which explains why it's crucial to understand the dos and don'ts of owning one.
That being said, below are some of the safety considerations for an indoor hot tub.
During installation
Safety considerations start from scratch. You must prioritize things like a strategic location where your tub won't vulnerable groups at the risk of drowning.
Water can cause slipperiness; so you want to avoid slippery floors as much as possible by using the right material flooring material. This will help you avoid falls and resulting injuries.
Electrical Safety
Below are some tips to avoid electrocution when trying to wire a hot tub.
Hire a licensed electrician to do the wiring to avoid the risk of faulty wiring that could cause electrocution or electric shock drowning.
Identify and mark your tub's control panel and how to switch off power during emergencies
Avoid plug in gadgets or extension wires near your tab as contact with water could cause electrocution.
Keep off an outdoor tub during lightning and thunder as this could cause electrocution
Caring for Your Water
Water hygiene is a crucial aspect of your home hot tub. Before purchasing a tub, discuss with your dealer to see if they have any water purifying accessories that can ensure safe water.
Care for your water from time to time to maintain a balanced pH. This is useful in avoiding contamination. Follow all instructions in the user manual.
Take a bath before soaking. A thorough bath before soaking reduces the amount of bacteria that enter your pool.
Hot Tub Safety Accessories to Prioritize
Hot tubs are not built equal, while some are created for fun and beauty, other manufacturers consider your household's safety and wellbeing as we shall see.
A hot tub lid or cover. A cover or lid is a safety measure and way to ensure energy effeciency. Always close up the lid when the hot tub is not in use. Make sure if features kid-safety locks that can safeguard your young-ones and pets from falling and drowning in the tub
Add a lid lifter. A cover/lid lifter eliminates the struggle of uncovering your tub alone and the dangers involved.
Safety climbing steps. Lastly, to reduce slipperiness, your tub should come with non-slip staircases for easy entry into and exit from the hot tub.
Lastly, you want to consider personal safety tips like knowing the right temperature, how long you should soak, alcohol or drug use and soaking etc. Understanding all these will give proper insights on how to enjoy hot tubs without compromising your wellbeing, and that of others.
In conclusion
And just like that, you have wired your home hot tub and ensured that all the power needs and safety measures are sorted out.
Don't hesitate to refer to this guide every time you wish to wire a hot tub.