Online CPR Certification Blog
Date:

November 30th, 2022
CPR Certification for Childcare: Why Does it Matter
If you run a daycare, you want to make sure the kids you host receive the best care possible. Part of that is ensuring that they are in a safe and secure facility.
Ensuring workers have CPR certification for childcare is another excellent way to make your daycare safer and more comfortable for kids.
The unfortunate truth is that accidents happen, even at daycare facilities, and they're often severe enough to require medical attention. If you're not prepared with the knowledge and skills to provide basic first aid care, you may be unable to help in an emergency.
What is First Aid Training?
First aid is a series of basic life support skills you can use in an emergency to help prevent further harm or death.
First aid training teaches you how to deal with minor injuries such as cuts, scrapes, and burns — but it also gives you valuable information on what to do if someone suffers from an allergic reaction or has an asthma attack.
Some first aid courses include CPR (cardiopulmonary resuscitation), which is a technique used to restart the heart when someone's heart has stopped beating.
There are two types of first aid: immediate care and delayed care.
Immediate care (also known as "first aid") is the treatment you give someone after being hurt or injured.
Delayed care (also known as "emergency medical care") refers to the treatment issued after calling 911 or another emergency response number.
This knowledge can be vital if you're caring for children at risk of having these different emergencies.
What is CPR Training?
CPR stands for cardiopulmonary resuscitation, which means "heart-lung resuscitation" in Latin. It's a technique that helps save lives by keeping blood flowing through the body while waiting for a doctor or other emergency personnel to arrive at the scene of an accident or severe injury.
CPR training teaches cardiopulmonary resuscitation (CPR)– a technique that saves someone who has stopped breathing through chest compressions and rescue breaths.
The AAP's Guidelines on First Aid & CPR Certification for Childcare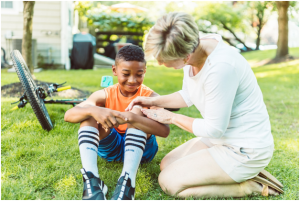 The American Academy of Pediatrics (AAP) first aid and online CPR training directions for daycare workers are as follows:
The AAP recommends that all childcare workers train in basic first aid and CPR. CPR is essential because it helps save lives if a child has stopped breathing or their heart stops beating.
Skillsets to acquire as a caretaker
All childcare workers should have up-to-date CPR certification for childcare, including those who work at home-based childcare facilities.
The AAP recommends that all child care workers receive at least the equivalent of an introductory first aid training course which includes the following skills:
Basic first aid which includes techniques for treating minor and major cuts, nosebleeds, sprains and strains, and other common kid accidents
Child choking interventions
Cardiopulmonary resuscitation training
Choking management for infants and young children
Recognizing and responding to severe illness and injury
Managing drowning in kids
Emergency response planning
Responding to severe allergies in kids
Caregivers should consider comprehensive CPR courses 
CPR is not enough to save the life of a child who has stopped breathing or whose heart has stopped beating; it's only one step in the life-saving process. Therefore, all caregivers should also learn to use an automated external defibrillator (AED).
The AAP states that children younger than eight should never receive chest compressions alone because their hearts are too small for this treatment to be effective.
Instead, rescuers must perform rescue breaths after every 30 chest compressions given to children younger than eight years old.
Safety in Daycare Centers: How Common are Daycare Accidents
First aid and CPR certification for childcare workers is a great way to help reduce accidents in a daycare center.
The following stats from Safe Kids USA show just how important it is to have trained staff in place at daycares and preschools:
Accident rates are higher for children under five years old than any other age group.
In 2012, more than half of all unintentional injury deaths among children ages 0–4 occurred in the home or at a home-based childcare facility.
According to Safe Kids Worldwide, drowning is the second leading cause of unintentional death among children ages 1-4 years old.
The worst injuries occur when a child falls from furniture or steps, leading to broken bones or head injuries.
In the United States, more than 3 million children visit an emergency department because of an injury sustained during sports activities every year.
The AHA also reports that children 1-4 years old are the most likely to be injured at home or school, and they are eight times more likely to suffer a critical injury than older children.
Common Accident Risks in Daycare Centers
Childcare centers are an excellent choice for many families. However, there are some safety concerns that parents should be aware of before enrolling their children in these programs.
The following are the three most common safety concerns in child daycare centers:
Accidents with objects 
Children are often curious and like to investigate new things they find, which can cause them to get into trouble if they are left unattended. For example, they may put small objects such as buttons or beads into their mouths or accidentally swallow them while playing with them.
To prevent this from happening, make sure you develop a clear plan with your child care provider about how you will handle situations like this when they occur at home or school.
Infectious diseases 
Children who attend daycare centers may come into contact with infectious diseases that could make them sick or even kill them if left untreated.
Vaccinate all staff members against common childhood illnesses,e.g., measles and chickenpox, to avoid this scenario. That way, they won't spread these viruses to the children in the facility.
Food allergies and other medical conditions
Some children have food allergies that make certain foods dangerous for them. Daycare workers with CPR certification for childcare can identify such cases and respond well to life-threatening situations.
Falls
Falls are the leading cause of injury-related deaths among children ages 14 years and younger. Falls can happen anywhere — inside or out, on hard surfaces or grassy ones.
Caretakers should train kids to play safely, so they don't sustain injuries (such as sprains).
Drowning
If left unsupervised, kids can drown in water bodies, e.g., swimming pools or a bucket of water. Caregivers with CPR certification for childcare watch out for such accidents–and are ready to offer emergency treatment.
The U.S. Consumer Product Safety Commission reported that drowning was the leading cause of death among children under age 1 between 2004 and 2008.
Choking
Children can choke on food items like grapes, hot dogs, and popcorn kernels due to their small size. If these foods aren't cut into small pieces beforehand, don't give them to children who still put everything in their mouths.
Poisoning
Kids may suffer poisoning if they eat paint chips or other household items that children shouldn't eat. Teach children not to eat anything unless it's approved by an adult first — even if they see other kids doing it.
Head bump
Head bumps are the most common injury in daycare centers. The most common cause is when a child falls, especially when running or playing on playground equipment.
Head bumps can occur at home, but they are more common in child care centers because of the increased activity level and the number of children with whom children interact. Most head bumps heal without any special treatment.
Nosebleeds
Nosebleeds are another common occurrence in daycare centers. They may be caused by dry air conditions or by blowing the nose too hard, which causes a rupture in one of the blood vessels in the nasal septum (the thin wall between your nostrils).
If your child has had more than one nosebleed recently, you should consult your pediatrician so that they can rule out other possible causes (such as allergies).
Knocked-out teeth
A knocked-out tooth is one of the most common injuries for all ages. The best way to prevent this is by making sure your child's mouth isn't full when playing with other kids since this increases their chances of falling on someone else's tooth (or vice versa).
You should also avoid letting children play with hard plastic toys or anything that can harm or break their gentle teeth.
Bruises and injuries
Because there are so many kids in one space, it's easy for them to get hurt when playtime becomes too rough or aggressive with other children or adults.
With so much going on, caretakers must learn how to handle different situations with kids rationally without injuring them physically or emotionally.
Fainting
Young children are at higher risk of fainting than adults because they have not yet learned to regulate their blood pressure well enough to prevent this from happening suddenly. Hyperthermia (overheating) can also cause fainting in young children.
Cold stress 
Infants and toddlers have little control over their body temperatures, so sudden temperature changes affect them more than older children or adults. For example, if it's very cold outside but warm inside the daycare facility, your child could become hypothermic (too cold).
Hyperthermia (overheating)
Young children have little control over their body temperatures; therefore, they can easily overheat in hot environments such as those found in many public buildings or vehicles during summer months when air conditioning systems aren't working correctly.
The Pros of First Aid and CPR Certification for Childcare
Here are some reasons why daycares need first aid and online CPR training:
Daycares are prone to accidents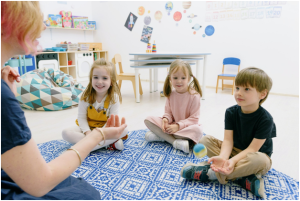 Accidents happen often in daycare centers, but they don't have to be fatal. While there are many reasons why accidents occur in this type of facility, one thing's for sure: It's better to be prepared than not.
Learning how to administer first aid can help you save lives — including your own — should an accident happen at work or on-site during school hours.
It equips staff with skills to deal with emergencies
It gives your team the tools to respond quickly in an emergency- A first aid kit is one thing, but knowing how to use it properly is another entirely.
Having first aid supplies on hand is excellent, but it won't do much good if everyone panics when an accident happens. Drafting a plan for emergencies will help staff know what steps to take as soon as possible so that no one suffers any further injury or distress.
The AAP recommends it.
The American Academy of Pediatrics (AAP) recommends that all childcare providers complete a minimum of two hours of training in first aid and cardiopulmonary resuscitation (CPR) every two years.
This includes staff members not involved with direct care, such as teachers and administrators.
If you're working in a center that cares for infants, children, or adolescents, the AAP also recommends getting additional training in infant CPR and choking prevention.
It gives parents peace of mind
First aid training can also give parents peace of mind when they drop their children off each morning. Knowing that their children are in good hands will allow them to relax and focus on work or other responsibilities when their kids are with you.
It gives caretakers the confidence to deal with emergencies
It will give you the confidence you need if there is an emergency at your daycare center. If you know what to do and how to do it, you'll have no problem helping someone who needs it.
You'll also be able to do this without worrying about being too nervous or unsure about what to do.
It keeps employees and kids safe
It will help keep your employees safe while working with children in an official capacity and when they're out on their own time.
If they have first aid and online CPR training, they'll know what to do and how to handle emergencies properly so that nobody gets hurt or goes without help when they need it most.
For instance, if you have a staff member who has passed out or fallen ill, they must receive proper treatment as soon as possible. The sooner they receive help, the better their chances are of making a full recovery.
Saves lives 
CPR training teaches daycare workers to perform CPR on someone suffering from cardiac arrest. The goal of CPR is to keep blood flowing through the person's body until emergency medical personnel arrive at the scene.
By providing this type of training to your staff members, you'll make sure that everyone knows how to respond if an emergency arises in your facility.
 What are the Requirements to Work in a Child Daycare Center?
There are many requirements to meet before working at a child care center.
You must have a high school diploma or GED, and you will be required to pass an exam on first aid, CPR, and infection control.
Child care workers must also complete background checks, drug testing, and tuberculosis testing.
Additionally, most states require that child care workers receive training related to early child development.
If you want to work with children but don't want to become a licensed teacher, consider becoming a child care worker instead. It's an excellent way to help parents with young children while earning money simultaneously.
What are the requirements to become licensed?
To qualify for a license by your state's board of education, you must meet specific requirements that vary from state to state but generally include:
Being at least 18 years old (or older depending on state law)
Having completed high school or its equivalent (such as passing an exam)
Passing a First Aid, CPR certification for childcare, or Infection Control exam; also may include other areas such as child development or nutrition.
Providing proof of good health (such as a full report of your health)
Passing a background check
The National Association for the Education of Young Children recommends that prospective child care workers have at least one year of experience working with children under age five before becoming certified in early childhood education.
Recertification Courses for Daycare Professionals
The state often inspects child care centers to ensure that they operate under specific standards. For example, if a child care center is not licensed correctly, it can have serious consequences for both the center and its owners.
Many states offer re-certification courses as part of re-certifying a child care program. The exact requirements vary by state, but most states require that a center owner or director take a training course covering laws and regulations and explaining how to meet them.
The course may also cover best practices in running a daycare program and other health, safety, and nutrition issues.
Child daycare centers need to recertify every two years, and this process ensures centers continue to meet all of the requirements set forth by the state. Re-certification courses are offered throughout the year and can help child care centers meet all their recertification requirements.
Reasons childcare centers need recertification courses
There are several reasons why child care centers need recertification courses:
They help ensure that your staff meets all of the licensing requirements set forth by your state's Department of Human Services (DHS). If staff are not qualified, they may not be able to complete all of their duties within the facility, resulting in poor supervision and safety concerns for both children and adults alike.
They keep staff up-to-date on new licensing regulations, so they know what changes exist and how these changes affect their role within the facility.
They allow you to maintain a safe and comfortable environment for children while parents are at work or school.
You can even use these courses to provide extra training for staff members or teachers who want to learn more about specific topics such as developmental milestones or discipline techniques.
Remember, the Centers for Disease Control and Prevention (CDC) recommends that all child care workers receive at least six hours of training every two years. Re-certification courses provide this training without extra time away from work or family responsibilities.
Final Words on CPR Certification for Childcare
Daycare centers are central to our society. They allow parents to work and ensure that children receive the care they need.
Child care centers are constantly evolving to meet the needs of their clientele, but it's important to remember that you must consider some basic things.
For a child care center to operate efficiently, it needs qualified staff members, trained in early childhood education. The staff must deal with any situation that arises and identify and treat any medical issues quickly.
The caregivers also need proper training in CPR and first aid techniques and other relevant skills such as nutrition and behavior management techniques.