Trusted & Validity:All our courses are developed by a team of authorized U.S. board certified and licensed medical doctors.
Our nationally recognized certificates are signed by authorized board certified U.S. medical doctors.
American Academy of CPR & First Aid, Inc.®
Welcome to Adult CPR
Introduction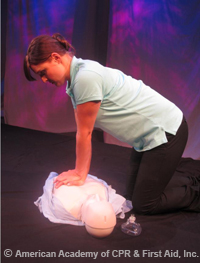 Why is timing important?
When the heart (pulse) and lung (breathing) stops, the victim has 5 minutes before (gradual) brain death starts to occur if no CPR is performed. Therefore, it is very important to start CPR as soon as possible.
What is Hands-only CPR?
Any bystander who is not trained in CPR can perform this type of CPR to try to save a life. Hands-only CPR is better than no CPR. If you witnessed an adult or a child/infant suddenly collapse then:
1. Call EMS / 911
2. Push hard and fast in the center of the chest
©
2019 Course content all rights reserved by American Academy of CPR & First Aid, Inc.
®