Trusted & Validity:All our courses are developed by a team of authorized U.S. board certified and licensed medical doctors.
Our nationally recognized certificates are signed by authorized board certified U.S. medical doctors.
American Academy of CPR & First Aid, Inc.®
Welcome to Bloodborne Pathogens
Prevention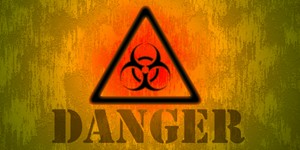 1. Engineering controls:
Engineering controls refers to any object that comes between you and the potential infectious material.
Examples:
Readily accessible hand washing facilities
Eye stations
Sharps containers
Biohazard labels
Self-sheathing needles or syringes with retractable needles
Needleless IV systems
Biohazard Labels:
These labels should be attached to bags or containers containing potentially infectious materials. These labels must be fluorescent orange or orange-red with letters or symbols in contrasting color.
©
2019 Course content all rights reserved by American Academy of CPR & First Aid, Inc.
®