Nationally Recognized and Trusted: all courses are created by licensed U.S. board certified physicians.
All certificates are signed by authorized U.S. board certified physicians.
American Academy of CPR & First Aid, Inc.®
Welcome to First Aid Course
Burn: Electrical and Chemical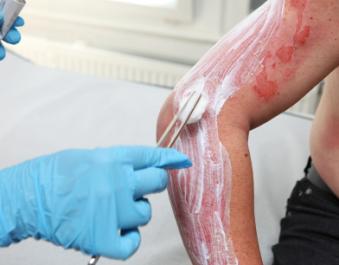 First aid response for burns:
Evaluate the situation. Look for dangers to yourself and to the victim.
For severe burns or burns to the airway or electrical burns, call EMS or dial 911
Apply plenty of cold tap water for at least 10 minutes.
Put on disposable gloves if available.
Carefully remove the clothing around the burn, unless it sticks to the burn.
Cover the burned area with sterile dressing or folded triangular bandage, part of a sheet or plastic wrap, to protect it from infection and to prevent fluid loss.
Monitor and record vital signs-level of response, pulse and breathing
Be prepared to administer CPR, if necessary

DO NOT

burst any blisters. Loosely cover blister with sterile dressing, but leave blisters intact as it improves healing and reduces pain.

DO NOT

apply lotions, ointment, or adhesive tape to the burned area

DO NOT

apply ice directly on the burn as it may cause tissue injury

DO NOT

remove anything sticking to the burn
©
2021 Course content all rights reserved by American Academy of CPR & First Aid, Inc.
®