Trusted & Validity:All our courses are developed by a team of authorized U.S. board certified and licensed medical doctors.
Our nationally recognized certificates are signed by authorized board certified U.S. medical doctors.
American Academy of CPR & First Aid, Inc.®
Welcome to First Aid Course
Strains and Sprains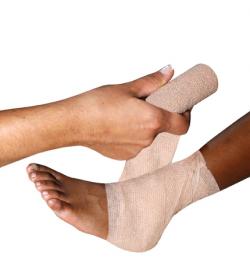 Strains or sprains refers to the injuries to the soft tissues (muscles, tendons and ligaments).
Causes of strains and sprains:

A strain or sprain occurs when the muscle is overstretched

Signs of strain or sprain:

Pain
Swelling
Bruising
Difficulty moving the injured part

First aid response for strains or sprains:

R- Rest
I - Icing the injured part
C- Compress the injured part (e.g. ACE wrap)
E- Elevation of the injured part

If the pain is severe, or the person is unable to use the injured part, arrange transportation to a medical facility
©
2019 Course content all rights reserved by American Academy of CPR & First Aid, Inc.
®