American Academy of CPR & First Aid, Inc.®
Welcome to First Aid Course
Electrical Injuries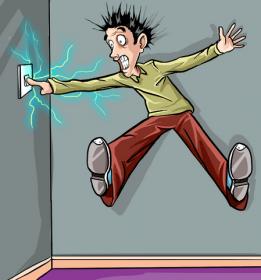 Evaluate the situation. Look for dangers to yourself and to the victim
Make the area safe for yourself and the victim
HIGH VOLTAGE current found in power lines and overhead high-tension (HT) cables, is usually fatal. Immediately notify the authorities if there is high voltage electrocution, such as fallen power lines.
LOW VOLTAGE current is found in homes and workplaces
DO NOT touch the victim if he/she is in contact with the electrical source because you risk electrocution.
Break the contact between the victim and electrical supply by switching off the current at the main switch or fuse box or by unplugging or disconnecting the appliance.
If unable to reach the plug or main switch, then stand on dry insulating material such as a wooden box, a plastic mat, or a telephone book. Using a wooden stick push the victim's limbs away from the electrical source or push the source away from the victim.
©
2023 Course content all rights reserved by American Academy of CPR & First Aid, Inc.
®