Trusted & Validity:All our courses are developed by a team of authorized U.S. board certified and licensed medical doctors.
Our nationally recognized certificates are signed by authorized board certified U.S. medical doctors.
American Academy of CPR & First Aid, Inc.®
Welcome to BLS CPR (Adult / Child / Infant)
Automated External Defibrillator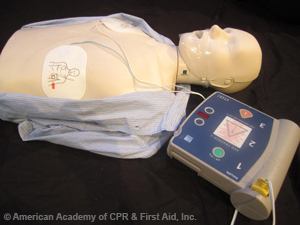 When to use AED?
AED should be used on any adult or child (1-8 yrs), when there is, no response, no breathing and no pulse.
Following is the sequence for AED use:
If no response
Activate EMS (for all witnessed adult and children cardiac arrest except for drowning adult and unwitnessed children, who would need 2 mins/ 5 cycles of CPR before activation of EMS).
How to use AED:
Turn on AED
Attach electrode pads (child's pads for 1-8 yrs if available) to the victim's bare chest.
Place one on the upper right side of the bare chest to the right of the breast bone directly below the collar bone.
Apply other pad to the left of the nipple, a few inches below the left arm pit.
DO NOT use child's pads or child's system for adults.
Attach the wires to the AED
Press analyze.
Clear the victim and allow AED to analyze the rhythm
©
2019 Course content all rights reserved by American Academy of CPR & First Aid, Inc.
®