American Academy of CPR & First Aid, Inc.®
Welcome to BLS CPR (Adult / Child / Infant)
CPR on COVID-19 Positive or Suspected Patients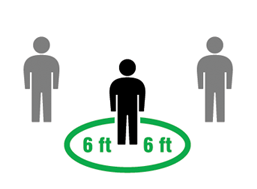 Out of Hospital Cardiac Arrest On COVID-19 Positive:
Check if the scene is safe
Don PPE (Wear a face mask, preferably N95 respiratory. Recommend gloves, gown, and face shield, if available)
Limit the number of people around the victim. Non-essential people should be standing at least 6 feet away from the victim.
Check for response
If no response, i.e., unresponsive and lack of normal breathing, i.e., no breathing or gasping and no pulse (checking simultaneously) for up to 10 seconds.
Activate EMS (Emergency Medical Services or Emergency Response Team) inform them about suspected or positive COVID-19 victim and get or call for an AED (automated external defibrillator)
If the victim is COVID-19 negative or not suspected, then standard CPR algorithm is recommended.
©
2023 Course content all rights reserved by American Academy of CPR & First Aid, Inc.
®