Trusted & Validity:All our courses are developed by a team of authorized U.S. board certified and licensed medical doctors.
Our nationally recognized certificates are signed by authorized board certified U.S. medical doctors.
American Academy of CPR & First Aid, Inc.®
Welcome to First Aid Course
Electrical Injuries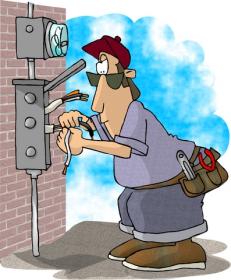 If a wooden stick is unavailable, place a piece of rope or cord around the victim's ankles or under victim's arms and then pull away from the electrical source.
If a wooden stick or rope is unavailable then pull the victim by any loose, dry clothing (sleeve , pant leg or hem of shirt) being careful not to touch the body. Remember , you risk electrocution by touching the victim's body.
Once the power is off, evaluate the victim's for breathing and pulse.
Begin CPR if the victim has no pulse or is not breathing.
Call 911 emergency medical services
All victims of electric shock need medical assistance. Internal injuries may have occurred that are not visible.
Arrange to take or send the victim to a hospital so that he or she may be evaluated by professionals
©
2019 Course content all rights reserved by American Academy of CPR & First Aid, Inc.
®