Nationally Recognized and Trusted: all courses are created by licensed U.S. board certified physicians.
All certificates are signed by authorized U.S. board certified physicians.
American Academy of CPR & First Aid, Inc.®
Welcome to First Aid Course
Road Accident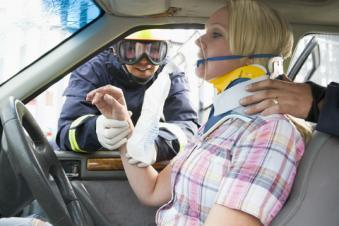 Evaluate the situation. Look for dangers to yourself and to the victim(s).
Make the area safe for yourself and the victim e.g. Switch off the ignition
Check the victims. Evaluate all victims quickly and firstly give aid to those with major injuries or not breathing.
DO NOT move the victim unless it is absolutely necessary. Treat the victim in the position where you find him or her.
ALWAYS assume that there is a neck (spinal) injury
If you think the victim has a spinal injury (back or neck injury) do not move the victim. If the victim is unresponsive (unable to answer your questions) and is having difficulty breathing, is vomiting or if you must leave the location to get help, place the victim in the modified recovery position.
Recovery position :- extend one of the victim's arms above the head and roll the body onto one side. Use the extended arm as a pillow. Bend both legs to keep the body on its side. . (stabilize)
Monitor and record the victim's vital signs (pulse, breathing, response to your questions)
Be prepared to give CPR, if needed.
©
2021 Course content all rights reserved by American Academy of CPR & First Aid, Inc.
®